When it comes to Mold what you Can See can be 10 Times Worse where you Can't See!
9/12/2018 (Permalink)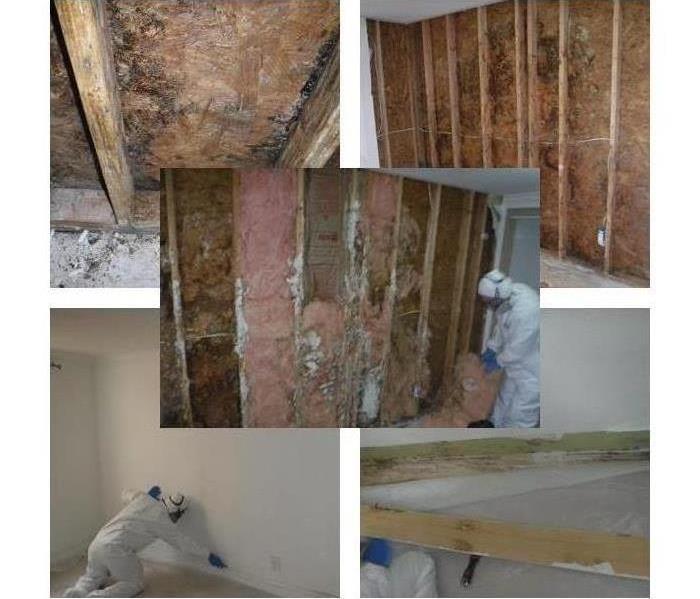 This Home had small amounts of Visible Growth Present. But when Mold Remediation started an Extensive Amount of Mold was found in the Rooms Cavity.
If you can see visible Signs of Mold Growing there's a good chance that there is more Mold where you can not see. Our Home Structures not only have Walls and Ceilings but also have Cavities where Insulation is usually placed. Mold Loves Dark, Damp and No Air Flow Places. Usually, Mold would first start in the Cavities and would slowly start to spread to the outer surfaces. When the Mold is Found it should be taken care of right away by a Professional!
Secondary Damages can consist of Mold Growth and Wood Rot. When Customers try to take care of Water Losses themselves and are hesitate for calling in the Professionals, they are doing more Damage than Good. It's great to Clean the Water away yourself, but best to have a Professional Inspect to make sure nothing is wet.
Control and Prevent Mold Growth by:
Monitoring Humidity Levels in the Home
Ventilating after the use of Showers, Laundry Dryers and the Cooking Areas
Fixing any Leaks from Pipelines, Supply Lines, Windows and Roofs
Properly Cleaning and Performing Professional Restoration Drying after any Water Damage
Call SERVPRO of Hammond for your Mold Concerns at 985-542-7388